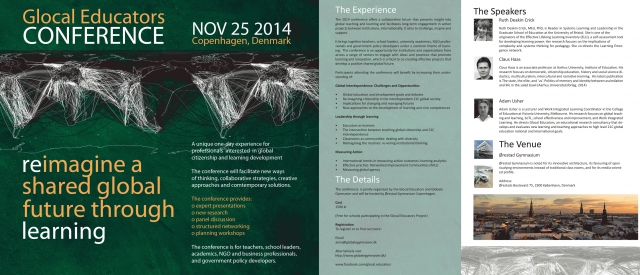 Re-imagining a Shared Global Future Through Education A unique one-day experience for professionals interested in global citizenship and learning development.
THE EXPERIENCE
The 2014 conference offers a collaborative forum that facilitates long-term engagement in action projects between institutions, internationally; it aims to challenge, inspire and support.
It brings together teachers, school leaders, university academics, NGO professionals and government policy developers under a common theme of learning. The conference is an opportunity for institutions and organisations from across a range of sectors to share ideas and practices that promote learning and innovation, which is critical to co-creating effective projects that develop a positive shared global future.
Participants attending the conference will benefit by increasing their understanding of:
Challenge of Global Interdependence
Global education and development goals and debates
Re-imagining citizenship in the interdependent 21C global society
Implications for changing and managing futures
New approaches to the development of learning and civic competences
Leadership through learning
The intersection between teaching global citizenship and 21C interdependence
Classrooms as communities: dealing with diversity
Reimagining the routines re-wiring institutional thinking
Measuring Our Action
International trends in measuring action outcomes: learning analytics
Networked improvement communities
More information about the conference and the
programme
.